Nevaton MC47
Multi-Pattern Condenser Stereo Microphone
The MC47 is a FET condenser microphone with two large-diaphragm capsules shockmounted on a unique parallel-swivel device that allows the capsules to be offset from 0° to ±45°.
Th swivel control is marked with four numbered positions, with intermediate steps in between. There are no detents; operation from one extreme to the other is smooth.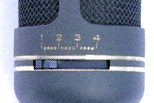 The "1" position points both capsules directly forward (0°). The "2" position rotates one capsule clockwise 15° and the other counter-clockwise 15°, creating a 30° spread. Position "3" creates a 60° spread. Position "4" creates a 90° spread (with the two capsules pointing ±45° from the LED marking the front-center of the microphone).
At 90°, the two capsules produce an XY stereo pickup pattern.
The mic has a 5-pin XLRM jack and is supplied with a Y-cable so that the signal from each capsule can be recorded separately.
The mic has an innovative "mono mode" that sums the outputs of both capsules. This allows the creation of an infinite variety of cardioid pickup patterns, from 0° to 90°
Mono mode effectively doubles the mic's sensitivity (to 20 mV/Pa) without affecting the noise level. The switch for this is labeled "mV/Pa," with the two available options marked "10" and "20."
The mic therefore has two cardioid pickup options: either single capsule (at 10mV/Pa) or the sum of both, at 0° (20mV/Pa).
Both capsules have 25mm diaphragms made of 3-micron polyethylene-terephtalate film (aka Mylar).
The amplifier circuits are class-A transformerless, like most of Nevaton's microphones.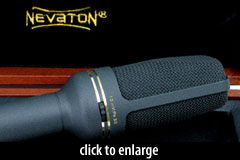 The mic ships in a padded hardwood box with an "isolation" mic clip and an individual frequency-response plot.
All Nevaton microphones are manufactured in St. Petersburg, Russia.
The Nevaton MC47 is also known as: MK47.
The mic was released in 1987.
Specifications
Frequency Response - Cardioid

Click Graph to Compare!

Frequency Response - X/Y Stereo

Click Graph to Compare!

Frequency Response - Wide Cardioid

Click Graph to Compare!

Pickup Patterns
Pads & Filters
Cardioid (10 mV/Pa; 20 - 20,000 Hz)
X/Y Stereo (10 mV/Pa; 20 - 20,000 Hz)
Wide Cardioid (20 mV/Pa; 20 - 20,000 Hz)

Capsule Dimensions
Impedance
SPL/Noise
Diaphragm diameter: 25mm
Diaphragm gauge: 3 microns
50 Ohms (Low)
Self-noise: 12.0 dB(A)
| Weight | Length | Max Diameter | Interface(s) |
| --- | --- | --- | --- |
| 500g (17.64oz) | 249mm (9.80'') | n/a | |
Power Specifications
Requires phantom power
Phantom voltage: 48 ± 4v
Did we get anything wrong on this page? Please let us know!